We are a small team of very passionate people putting our heart and soul into crafting each of our flavours.
We are extremely humbled and proud of our awards
These awards celebrate the finest chocolate produced in New Zealand. We are absolutely humbled to have won 3 bronze medals and 1 silver medal for our Hot Chocolate Syrups in 2020 within the Open Class Drinking Chocolate Category!
Here are some of the Judges' comments
Mint Hot Chocolate
"Mint, subtle chocolate flavour. Smooth texture. Not overly sweet. Would like to see more cocoa. Light mint flavours."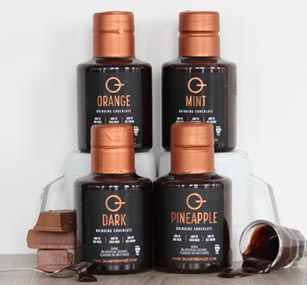 Full Range
"Good environmental strategy, local mentioned. Social, focus on people, ethical."
OUTSTANDING NZ FOOD PRODUCER AWARDS
These awards recognise the finest food producers in New Zealand and celebrate the Kiwis who harvest, grow and make outstanding food and drinks. Our Hot Chocolate Range was awarded 3 bronze medals and 1 silver medal within the Drinks category in 2020!
Here are some of the Judges' comments
Orange Hot Chocolate
"Very nicely balanced with orange. Delicious hot chocolate."
Dark Hot Chocolate
"Very good chocolate flavours, very enjoyable product."